VGLN.com Features >> article

E3 2004: VGLN.com Best of Show
by VGLN Staff

Saturday, June 5 2004

The best of the best at gaming's mecca.

This year's E3 was perhaps one of the best in recent years. Some have called it the year of the portable with no less than four major portable systems being introduced including Nintendo's DS and Sony's PSP platforms. Some commented on the show floor that the amount of quality online capable titles was staggering. It seems that this year's E3 has finally begun to reflect the general change in tone of the gaming industry towards online, portable, and wireless platforms.

Of course there were many great single player titles on display including Lionhead's much hyped Fable. Splinter Cell 3, and Ghost Recon 2 made appearances as well at the Ubisoft booth. No matter who you talked to on the show floor however, everyone had their picks of what were the gleaming gems of the show floor, and without furthur delay, here are the opinions of the staff who were fortunate to attend the show this year.

---


Joe Soria, VGLN Staff, Lead Truth Machine
Best of Show Overall
Fable - Fable shows that you can indeed tell a neverending story with a game and tell it your own way, able shows that alot of work and alot of creative genius went into this games development. you can pillage a town and if you want to kill every person who lives in it, but dont expect them to simply respawn, it might take years before ppl inhabit the land you just eradicated, and while your doing your bloodlust the townsfolk wont just stand there they will try to run away and be removed as much as they can from the danger that is coming towards them, talk about A.I.

Best GameCube Game
The newest Legend Of Zelda, although not playable, this time Miyamoto is again giving gamers and nintendo fanboys what theyve always wanted an adult link, and quite possibly in a land they remember and cherish in that of hyrule circa ocarina.

Best PS2 Game
MGS 3 Snake Eater - who wouldnt love the ability to play snake in the jungle and stealthily finding your way through to an enemy base, but weve learned some things about this game, noone really knows how long the jungle really is, and when you arrive to the base, where does the game go from there? not even the PR people realy know the answers to that one, but anyway best PS2 game of the show if you could only take out some of the ppl who were hogging the systems.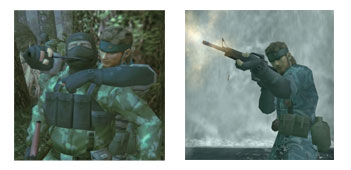 Best Xbox Game
Halo 2 - Bungie does it again, although they wouldnt let it hit the showfloor, the press conference was enough to cement this as the number 1 game on the xbox.

Best PC Game
I dont play PC games so I'm not going to vote for this category.

Surprise Game of Show (any console)
AREA 51 - wow, what can be said about area 51 other than best FPS of the show, that was playable anyway, you couldnt put it down I loved this game and cant wait for it to be in my hands, hurry up midway, I cant believe I just said I liked a midway game, the world is ending people.

Disappointment of Show (any console)
KillZone - The single player mission was great , do not get me wrong, but if this is supposed to truly be a successor to the halo thrown multiplayer wise, I'm sure some of the bungie guys who actually played killzone on the floor, are not even shivvering , the frame rate was so slow, and gaudy that quake on the dreamcast was laughing at this game, sony needs to break some balls on this one fast or theyll get laughed at when this is released, I for one will chuckle aloud.

Portable Console Extraordinaire (best portable)
Nuff said the PSP - Amazing, I still cant believe this friggin thing, I need two now because now my girlfriend wants one, that's how good it is. She will even play some of the games, awesome job to Sony for pulling this one off.



Anakin Award (lamest game, console, gadget)

Ok, 4-way tie here.

1. Gizmondo/Nokia Ngage QD/Donkey Konga/"The Duff"

Exhibit "A" - the gizmondo. Hmm this portable could have had a decent shot in a world with a GBA, or an Ngage, but now we have the DS and the almighty PSP so this one gets shoved under a rug, sorry but way too late to enter into this game.

Exhibit "B" - Nokia Ngage QD. Ok enough said bye bye nokia, leave this to the real gaming companies.

Exhibit "C" - Donkey Konga, anyone who plays this by themselves in their home will get what I'm trying to say with this one, cuz they're gonna look stupid, especially if they are 14 and up in age.

Exhibit D - "The Duff", once to be thought of as e3's butt whupper when it came time to Tekken , but what's this? An unknown fighter comes out of the wings and destorys duff aka "E3 2004 Anakin award winner". I'm sure Duff wants his crown back but its gonna take alot of practice.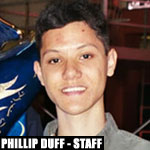 ---


Ryan Kang, VGLN Staff
Best of the Show Overall:
Fable - Well worth the wait, looks to be everything it's cracked up to be.

Best GameCube Game:
(new)Legend of Zelda - Even though we only saw a few flashes of it Nintendo finally made Link into the badass he always should have been.

Best PS2 Game:
Metal Gear Solid: Snake Eater - Nuff Said

Best Xbox Game:
HALO 2 - The frist one was excellent the second one will roxxorz teh boxxorz.

Best PC Game:
I'd have to toss it up between EQ2 or Joint Ops I'm undecided there. Okay, Joint Ops...

Surprise Game of the Show:
For sure Joint Ops, that game came out of left field.

Dissapointment of Show:
Nintendo DS, two screens of what, zero games. Something seems wrong here.

Portable Console Extraordinaire:
SONY PSP - Hands down

Anakin Award:
So many to choose from.....Gizmondo, N-Gage 2?, Phantom (ROFLMAO). I'll have to randomly pick and say Satoru Iwata, Nintendo of Japan's President. That guy needs a serious style change.

---


Jolex Del Pilar, Lead Editor, 3D Studio Max "extraordinaire"
Best of the Show Overall:
Fable - Peter Molyneux is doing it again. He puts out something not only unique, but "functionally" fun. A lot of games try to be unique and fun, but few can put two and two together.

Best GameCube Game:
The newest incarnation of the Legend of Zelda - The amazing trailer video was worth it. Link is all grown up and rendered in true 64-bit glory.

Best PS2 Game:
Champions of Norrath: Return to Arms. After playing the early alpha of this game, it looks like SOE is upon another winner. With Samurai's that committ sepeku, and new and powerful items, as well as a higher level cap, Return to arms is looking great. With EQII and Return to Arms, SOE is looking to release two top RPGs for the online and single player realms.

Best Xbox Game:
Jade Empire - Bioware knows its RPG games, and Jade Empire is looking to redefine the genre again. I'm glad they decided to go with the real-time combat system. KOTOR was fun but the combat was sometimes bland.

Best PC Game:
EverQuest II. EQII shows that online content can look every bit as good as single player content. When this game finally exits beta, it's going to be responsible for countless lost hours of productivity.

Surprise of the Show:
Rick Martinez, lead producer of Fable, making amends after our disasterous encounter at GDC 2004 in which I was accused of being a thief, and a jerk for taking home a piece of fable memorabilia that was given to me by Microsoft PR representatives. *grin*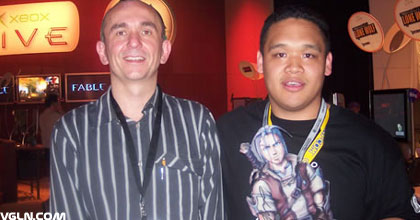 If Peter only knew the trouble it took to get that particular Fable item...

Dissapointment of Show:
There were no real disappointments from my viewpoint. I would have liked to have seen more software from Nintendo that didn't revolve around gimmicks (Donkey Konga), or rehashed licenses (The Four Swords).

Portable Console Extraordinaire:
The Sony PSP is sexy portable flexibility. Some worry about it's battery life and Universal Media Format. I don't.

Anakin Award:
The Phantom Gaming Console. The horrible design, and the lack of software (only one game was displayed during the show) make this overgrown waffle iron an official Anakin Award winner.