VGLN.com Features >> article

The Lighthouse View issue #2: The Advertising Quandary
by Jolex Del Pilar

Sunday, September 21 2003

Advertising within video games is a highly targetted and lucrative way for advertisers to promote their products. But do these ads come at the cost of gamer immersion?

Apparently a sinister plan has been brewing within the gaming industry that has some of us a bit confused. It is possessed of an inscrutable whimsy that leaves little room for gamers to contemplate anything else. It also makes for a great muse in finding inspiration for this weeks Lighthouse View.

Last week, we received an impassioned letter from a Danish reader who had found something worrying, and somewhat confusing, inside the sci-fi world of PlanetSide, it had been invaded and conquered by CPU manufacturer Intel™. "Ads within the game," the reader claimed. In my response, I stated that "advertising within games was not unprecedented", still I had to see it for myself.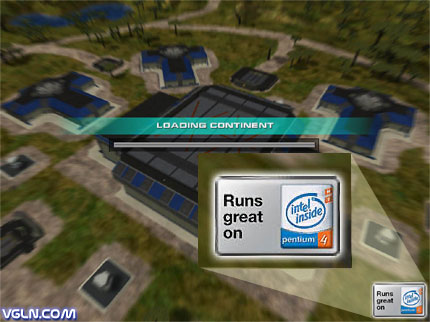 Intel stakes their territory on the PlanetSide loading screen.

The ad was fairly unobtrusive, sitting in the bottom right hand corner of a loading screen, not exactly a place most of us pay attention to when we're waiting for the game to load up. Still, the thought of advertisements within a game remains a touchy subject. Most gamers, myself included, like to have their games full of immersion and devoid of ads. Ads threaten that immersion. Who wants to adventure through an articulately created fantasy world only to find AOL Broadband banners prominently displayed on the walls of an Alien Bio Lab? However, the truth is, advertising within video games is something that benefits both advertisers and publishers.

Advertisers benefit because of highly targetted exposure to their products. Gamers will notice the product instantly, much like movie goers notice products displayed within movies. Want to push soft drinks? Put a few rendered cans on some random pool table within the world of Max Payne.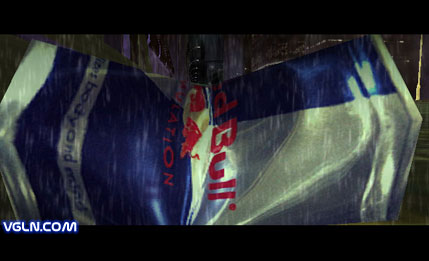 Red Bull Australia Pty Ltd bought ad placements within Vivendi Universal's new action game, Judge Dredd vs. Judge Death.

The benefits to developers and publishers are also apparent. Many games, regardless of how well crafted they are, run off razor thin budget margins. Publishers must take into account many cost into getting a game to the store shelves including support, overhead, management, benefits, hiring, equipment, financing, insurance, and legal fees. Often, this results in a game that is only slightly above the red after initial sales, if above the red at all. Revenue from running ads in-game gives publishers an extra revenue stream that can help them towards profitability.

Advertising within video games is still fairly isolated however. Only a few dozen games feature any ads at all, and most of them are games which may inherently need these advertisements to maintain continuity within the story, for example the featuring of Omega time pieces within James Bond games. However that will, almost inevitably, change.

Video games, past the creative and technical mastery, are still a buisness. Shigeru Miyamoto, Peter Molyneux, and Richard Garriot are only in the positions they are now because they can sell profitable games. For all of their creative genius, none of the aforementioned men would even have a job in the industry if they couldn't create revenue for their publishers. Video games are an $8 billion industry that has surpassed the movie industry in both size and revenue, and advertisers are beginning to take notice.

In fact more recently, Erik Dochtermann, chief executive of advertising firm Katz Dochtermann Epstein bought ad placements in the PlayStation 2 version of Midnight Club 2 for Coke, Krispy Kreme, Def Jam and Skechers at $5,000 a pop, a bargain compared to prices charged for the same ads within motion pictures. (Source: Forbes.com)

The idea is obviously a no-lose situation for everyone involved, except for possibly the most important party, the gamers themselves. It begs the question, when is it too much?

Obviously when immersion within a game is sacrificed for the sake of advertisements, the advertisers and publisher will have gone too far. In fact many believe that the end of ad free games may already be upon us, and that the industry will experience a similar transition to what many websites went through in the late 1990s, ad free to "ad soaked". However, to those people I say trust the people who bring us these magical gifts that we call video games, the developers. We have to believe that the people doing this must love what they do. These are the same people who sacrifice a great portion of their social life to bring us games like Quake, or EverQuest. For the skills that they possess, they could be creating buisness applications for at least 1/3 more pay. You have to believe that the people behind the scenes, although partially motivated by monetary gain, are doing this for the simple love of game creation. Given this, it's not hard to believe that these same people would not sacrifice their creative vision by inundating their creations with advertisements.

Rest assured, the gaming community is a tight-knit group of people who would not see our beloved passion be completely conquered by advertisers. By the wills of our pale, out of shape, atrophied bodies, we will prevent the day that the Legend of Zelda is ever brought to us by Burger King accompanied by the harrowing words, "The fire is ready".

Parting Shot

The way the gaming industry has grown in the past 10 years amazes me. You see, in the past, games would look to movies for inspiration and material. In recent years however, we have seen a complete turn around as movie adaptations of Capcom's Resident Evil, and Konami's Silent Hill 3 are planned for release next year. I personally want to see a movie adaptation of Tom Clancy's Rainbow Six myself.

--- Jolex Del Pilar

Jolex would like to thank VGLN.com readers Aaron, and Brian Morris for their contributions to this article. Their dedication and affluence of time allowed them to find valuable examples of ads within games such as the as those featured below. As always, E-mail Jolex for a touch of friendly correspondence.