VGLN.com Features >> article

Lords of EverQuest launch party
by Jolex Del Pilar

Saturday, November 22 2003

A night of gaming, drinking, and eating; and some people say our jobs are easy.

Last night, I had to chance to head into San Francisco to preview Sony Online Entertainment's upcoming RTS game, Lords of EverQuest. It was a low-key event meant only for gaming media in the San Francisco Bay Area, which included of course VGLN.com, PC Gamer, IGN, Worthplaying.com, and a few other outlets. The venue was the Cyber Hunt Gaming Cafe headed by the industrious Steven Chan. This guy knows more about buisness than some MBAs I know, and seems rabidly enthusiastic about finding a windfall, regardless of the industry, but I'll get to that later.

The drive into the city was a bit bumpy, it was Friday night, and most youth aged 18-25 were looking to get into the dance clubs to get their groove on, or so I imagined. This meant that the Bay Bridge metering lights were on, and it would be slow getting into the city no matter what we did. Once we actually got onto the Bridge a car full of teenaged girls pulled up alongside the car I was in and giggled hysterically as I looked over at them. They playfully waved, stuck their tongues out at me and my brother, who was driving, and pulled their shirts up. I waved back, with a slight smile; a free show, how could I refuse? As we made our way to Geary street (after a little fumbling with the MapQuest direction I printed out earlier), we finally arrived at Cyber Hunt.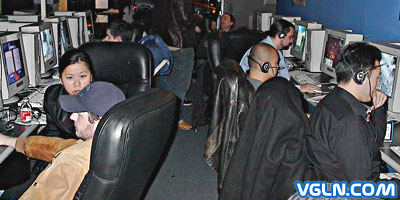 Many reporters were already testing out Lords of Everquest... when we arrived about 2 hours late.

The party started at around 7pm, my watch read 8:30pm, so we were a bit late, none of that mattered, I had to use the bathroom badly. Apparently it needed a key, I went to the free bar that SOE had setup and asked the guy behind the counter for the pass to my urinal escape. Key in hand, ready to empty the hose, I heard a voice that stopped me in my tracks.

"Hey Jolex, what's up? You walk by me without saying hi?"

"Oh hey Sean. How's it going?" I reply.

Sean Kauppinen, PR officer of Sony Online Entertainment, gives me a pat on the shoulder and we exchange a "manly" hug, you know, the ones where you use only one arm to wrap around, with the other clenched in a "manly" handshake. Sean is probably the one guy in the industry who I actually have a real bond with. While the industry is littered with self-proclaimed prima donnas, individual egos the size of a Good Year Blimp, and general jack asses, Sean remains one of the the friendliest, most humble guys you'll ever meet in person, and has a cool laid back demeanor.

After grabbing a plate of food from SOE's catered menu, which included clam chowder, chicken, and fancy ravioli, I find my way to a computer in the cafe and put in my media key to start up Lords of EverQuest. I take a sip of 7-Up and begin playing. From my 20 or some odd minutes of playing with the game, it seems to be a lot more action oriented than other RTS games. While resource management is still featured in the game, unlike games like WarCraft III, there is only one resource to worry about, namely platinum. No need to worry about feeding your troops, or chopping down trees, mining gas, or killing food, just mine platinum and build yourself a fighting force to kill off your opponent. Not sure how this exactly affects the gameplay mechanics of the game when compared to its contemporaries, besides the faster pace of combat, but I should have some time to play the full version this weekend and give a more indepth review.

While we were sitting there enjoying the cuisine and free bar SOE provided us, Terrell, the webmaster of Cyber Hunt's website came over to chat with us. The guy was real cool character. He's genuinely enthusiastic about the industry, and a real Nintendo diehard. Not to mention that we're both guys in our early 20s looking to get into the industry sooner rather than later, so we can relate easily. He told me he was a student over at City College in San Francisco, and was taking many gaming related courses including a class in Macromedia Flash. He showed us an impressive demo of his skills. Perhaps we'll work together someday.

As the evening progressed, there were raffles for prizes like a 3.2 megapixel Sony Digital Camera, as well as a home entertainment theatre. Unfortunately I was not able to bring home either prize, but I already had a nice digital camera, and the home entertainment theatre wasn't going to fit into the closet I called my "apartment" in Berkeley.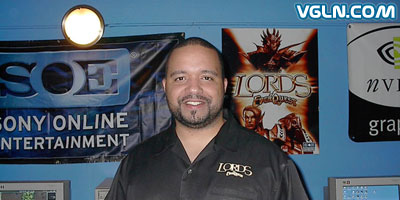 Producer James Parker cheeses for the Camera.

During the course of the evening I jumped on a great opportunity to speak to James Parker, the producer of Lords of EverQuest. He had a lot of interesting things to say. Sean introduced us and we began to chat a bit, and I asked him things ranging from advice to getting into the industry to the best and worst things to happen during the development process of Lords of EverQuest.

"One of the best things that helped us during the development process was the vast amount of experience the team had," he told me. "Between myself and the other people on the team, we had about 40 years worth of game development experience."

"What was one of the worst things to happen during development?" I asked him.

"Well, at one point, we had to sit down and decide if we wanted to do an overhaul of the graphics and engine because the technology jumped during development." He continued, "It's not something that happens commonly, but it happens enough that you should plan for it during the development of any title. We spent 2 years developing Lords of EverQuest, and that's about average for most titles. Technology will change during those 2 years."

We continued for a bit more, talking about the highs and lows of game software development. I could tell James wanted to continue mingling with the crowd, and at that point, I asked James for a picture to post up on the site, and he obliged, cheesy smile and all. As the evening winded down, Steven Chan, the owner of Cyber Hunt sat down and started to chat with me. The guy is a real buisness type person. I could see in his eyes that he saw economic opportunity everywhere, sometimes in places beyond my perception. During the course of the conversation, Steven revealed that he liked the bay area, and had opened six other cyber gaming cafes in the area.

"The kids here in the Bay Area are less rowdy than the kids in in the south. They pay their money and play, while the kids in the south seem to always break something," he said. I had to laugh at this revelation, having experienced something similar at this years E3 Expo. Steven then described how he had dropped out of high school during the 11th grade and had been forced into a real world game of learning buisness by applied experience. It seems to have worked. According to Steven, while some of his Harvard, Yale, and UC Berkeley graduate friends still drive around in Hondas, Steven reavealed he drives around in Benzes and Beamers. I guess what they say about the path less travelled might have some truth to it. He also discussed about a half dozen buisness ideas he had in the works. The guy is a walking energy machine and seems to relish in the fact that money can be made as long as you look for it. He even discussed increasing the profitability of VGLN.com. Apparently, we'll discuss it later.

At around 11pm, we decided it was time to go, and I said my goodbyes to Steven, Terrell, and Sean. Sean introduced me to Mark Donald, the new lead editor of PC Gamer before I headed out the door. It's funny because I had previously had a subscription to the magazine for 3 years in high school. I asked him about former editors, some still working for PC Gamer, others long gone, while some entered the industry as designers or artist. We debated the pros and cons of paper versus online media. Of course, the argument involving bringing a magazine into the bathroom was brought up, I countered with my argument of faster and more current news updates. Still, in the end, we were both people who loved the industry we were involved in and accepted the stalemate. Sean congratulated me for my acceptance into the Visual and Game Programming curriculum over at AI - San Francisco (which I informed him of earlier in the evening), and gave us a few review copies of Lords of EverQuest before we headed out. A nice evening on the whole, not only for the free food and drink, but for the interesting personalities I met that night. As for now, my mind is littered with candy thoughts of game design and development. Until next time.

--- Jolex Del Pilar
Live in the San Francisco Bay Area? Visit Cyber Hunt Gaming Cafe. Tell them VGLN.com sent you, you'll be taken care of. As always, send an e-mail to Jolex for a touch of friendly correspondence.