VGLN.com Features >> article

Lighthouse View issue #5: Return of Hack and Slash
by Jolex Del Pilar

Monday, February 23 2004

Three RPG's of the hack and slash variety made their debuts this month, and as you know 3 constitutes a trend.

This month was an excellent month for RPG fans of the hack and slash variety, turn-based wimps need not apply. Baldurís Gate: Dark Alliance II, Champions of Norrath, and Final Fantasy Crystal Chronicles all were released within days of each other. Naturally I received each in the mail except for Champions of Norrath which I picked up at the launch party which took place at the Dragon Bar in San Francisco last Friday night. Together, Iíve spent about 20 hours total on all 3 games (hey, I do other things besides play games) and have had lots of fun with each of them.

I started playing Dark Alliance II on Monday and got fairly far through it. One thing Iíve noticed is that, though this game is fun, there is something just a little off about it for me. I talked to Jamil Moledina, managing editor of Game Developer Magazine, about the game on Friday, and we both came to the same conclusion that the dungeon and general level design is just a bit repetitive. Could that be because half of the original team that developed the game jumped ship and went on to develop Champions of Norrath? I actually still am a bit cloudy about the whole Snow Blind Studios/Black Isle Studios fiasco. All I know is Interplay may have dismissed some of their most creative and capable people if Champions of Norrath is any indication.

Speaking of CON, let me first say that this game is definitely the answer to Diablo for console systems. At the launch party on Friday, I spent a good hour playing through the full retail version of the game and really ended up enjoying myself. What makes CON so great is its great storyline and multiplayer aspects. I played this game with my brother until 5am Saturday night. Itís just very hard to drop the controller once you get started.

Final Fantasy Crystal Chronicles was the other big RPG released last week. Iím still in my ďgathering thoughtsĒ phase when it comes to Square-Enixís latest creation. While the multiplayer mode is exceedingly good, especially when it comes to handling your items (use the GBA instead of CONís system which simply stops all the action for every gamer), the single player quest is not as deep as I wouldíve expected. Donít get me wrong, there is a solid story there, and in fact, I would say that itís more interesting than most dedicated single player RPGs, but Square-Enix is held to different standards in my mind. Iíll comment more on the game in my full review later this week.

Parting shots

The CON launch party in San Francisco was a great little media event. Free drinks, food, and other goodies kept me busy during the night. If thereís one thing that sticks out from that night, it was the poor, young, brunette waitress that had the unenviable task of providing drinks for the 50-60 media types in attendance. I watched her swivel, and dodge people, all the while balancing a half dozen drinks on top of a small brown tray. I talked to her at the bar during one of her breaks. I joked with her about the hardships of her plight that night, and she seemed to take it in good humor. Of course like all things in life, Karma reared its head later that night. As luck would have it, after 4 drinks, teeming with cognac, I did a TV interview with G4 about my impressions on Champions of Norrath. I thought I spoke fairly articulately, but God only knows how inarticulate I will look once it reaches your TV screens. The friendly brunette had witnessed the whole thing, and simply commented, ďHaving too much fun? Are you all right?Ē That about sealed it for me.

Also, for those in the San Francisco Bay Area, I found a pretty cool hangout/take-your-girlfriend-to spot in Oakland. It's called The Stork Club. It's pretty much a place where indy bands can get local exposure. It only seats about 30-40 people but not more than that go anyway. They had a few cool bands on Saturday, and there's a theme every night. One night they had bands with only female leads, and that turned out better than expected (i.e - no Courtney Love impersonators). If anyone needs an address and number, drop me an e-mail.

Now, here's my question of the week. Where the heck is ICO 2? We know it exist as proven by this gracious screenshot...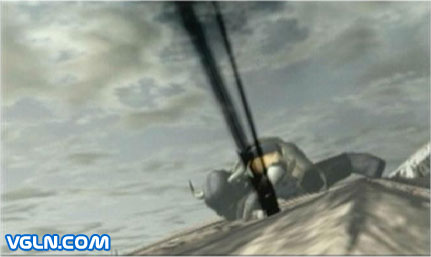 ... yet the game and its plot still remain a mystery.

C'mon SCEA, get with the program, Prince Of Persia: The Sands of Time owes its livelihood to the original Ico. Just make sure you don't pull a Devil May Cry 2 on this one and I predict platinum seller.

And with that, I crawl back onto the highway of life until next week.

--- Jolex Del Pilar

As always send an e-mail to silencer@vgln.com for a touch of friendly correspondence.