Get game updates delivered directly to your e-mail!

[an error occurred while processing this directive]
Gamecube
Carmen Sandiego: The Secret of the Stolen Drums 09/13
Jimmy Neutron: Attack of the Twonkie 09/13
Mega Man X Command Mission with Bonus! 09/14
Phantasy Star Online I&II Plus 09/14
Power Rangers: Dino Thunder 09/14
Zoids: Battle Legends 09/14
Def Jam Fight for NY with Bonus! 09/20
World Championship Pool 2004 10/15


PS2
[an error occurred while processing this directive]


Xbox
[an error occurred while processing this directive]


PC
[an error occurred while processing this directive]

VGLN.com Features >> article

The Lighthouse View issue #4: Industry slump
by Joe Soria

Monday, January 19 2004

Joe Soria is telling you to dump the hype.

I'm beginning to realize that the gaming industry is in a bit of a slump in the games department as of late. Games are becoming clones of themselves and are saturating the market with mediocre if not shite counter-parts.

This is making it very difficult to find a game amidst the sea of crap offerings that is worthy of your time and money. I'm waiting for a developer to start to deliver a "one-shot" , a term made popular in the comic book media. A game that delivers a lush new world, amazing gameplay, interesting new characters and it would be so good that a sequel is not needed.

That same developer would come back after some time with a whole new offering of goodness and introduce us to his imagination and creations. However, in a world that needed 3 Matrix movies and 6 Star Wars movies to tell a story I doubt we will ever see that.

But hopefully, someone out there is having the same thoughts as me or was planning on letting their imagination run rampant through this business and take the gaming world by storm. You never know where they could come from, whether they are your brother/sister, or your raising them or you yourself are aspiring to break into the digital media realm.

I for one am growing ever tired and rightfully pissed off at all the delays and pushbacks from some of these games that have been delayed for months or even years. The constant pushbacks have made me change my thinking when it comes to my purchases or games im waiting for.

I will rather have more games like Prince of Persia, Ico, Beyond Good and Evil, Animal Crossing, Victorious Boxers, instead of waiting in line for the Halo 2's or Ninja Gaiden remakes, Fables, Killzones or the next GTA (Jolex: Rockstar announced late last year that the series will now be known as GTA instead of "Grand Theft Auto".)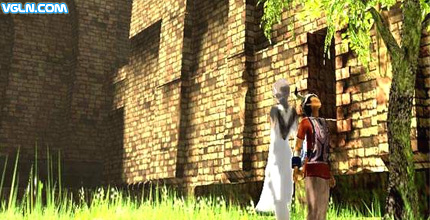 The brilliant ICO, overshadowed by brighter, and much more hyped luminaries such as Metal Gear Solid 2, failed to gain the commercial and industry recognition it deserved.

In the end they will all be delayed again and we'll have to wait a couple of more months to get served, so why wait for them and only them? Let them come to me, let them bring their business to me. Now mind you I'm still waiting for these games I'm just not gonna get all pissed off when they dont hit the estimated street date, I'll reserve it and wait for the guy at Gamestop (Jolex: ...or any other fine retail outlet...) to call me and let me know it's in, then I will go pick it up.

Some other things that piss me off are the people who are consumed with cheats and codes or need help when playing a game. This is making the developers take time to put in these "easter eggs". Look I don't care if I can have unlimited ammo, or can put a giant head on someone or the head of a monkey on a basketball player , WHO WANTS THIS CRAP?

I remember when I was young, if i needed help i had to call a Nintendo help line and it would cost 1.99 a minute for help, and I knew if I called I would get my ass beat for charging on the phone bill, so guess what? I had to use something called a brain to figure out how to beat the game and it gave me pleasure that I figured it out. I don't use cheat codes when it comes to games because I'm not looking to directly beat the game, I want the developer to challange me and I want to experience the whole game. I mean I paid for the friggin thing.

Developers need to just worry about the game and not waste their time with stupid *bleep* (Jolex: *utter shock*) like that. I hate cheat devices, they are usually made for people to lazy to play through a game. Imagine that, too lazy to play a game.

So back to the games issue. You know how I feel, and I'm sure some of you feel the same way. Let's stop bitching about it and actually do something. Have you ever tried to make a game or write a script? I'm sure you've thought about it, and I'm sure if we put our heads together we could come up with some sort of game idea and it would be prety good. I'm not saying we could make a classic but I bet we could come up with something that would be different.

What could we lose? We would be trying to help this industry and give it some games while you wait for your mega dollar games to be released.

If your up for it think we could come up with a game?

Let's see what you got.

Oh one more thing, the best ideas will get published on the site, and for those who get published, there's a free game in it for you. We're not completely cheap bastards.

--- Joe Soria

Joe Soria doesn't like pastry treats and moves like a gazelle. Send in your game ideas to support@vgln.com for entry into our "win a free game" contest. The best ideas will be published on the site.