VGLN.com Features >> article

E3 2003: The complete 3 day experience
by Jolex Del Pilar

Wednesday, May 14 2003

One man's 3 day experience at the greatest show on Earth.

Hello friends and family from the E3 show floor. Throughout the day I'll be posting updates and pictures from the floor for your enjoyment. This events log of sorts will be updated constantly, so keep coming back and checking us out.

Friday May 16th, Day 3, 2:12pm:
Visited the Square-Enix booth in hopes of catching some RPG action. The previous days had been filled with mostly shooting and fighting games (Soul Caliber II and the new K-1 game from Konami). Played the new Secret of Mana game for the GBA and thought it was fantastic. Great soundtrack and visuals. Final Fantasy X-2 was a hoot. I'm pretty sure the Squaresoft fanboys will love this game. Personally, it was fun, but I just couldn't see myself dumping $50 for it (I'll just wait for the review copy to come in).

Friday May 16th, Day 3, 11:30am:
Went to play Battlefield: 1942 at West Hall. That game kicked butt. I played as a German sniper against the allies on a 16 player LAN game. I managed to defend a factory all alone for about 10 minutes as wave after wave of allied paratrooper charged my position. Finally, an enemy sniper put a bullet in me ending my heroic defense.

Friday May 16th, Day 3, 10:00am:
Well, it's the last day of E3 and then the long drive home tommorow morning. I decided I was going to get an early start and proceeded to the Microsoft booth to try out some of the new Rareware games. First on my list was the new Conker game. This game enjoyed mild success on the N64 due to its hilarious multiplayer mode and entertaining single player missions. Fortunately, everything has stayed the same. The visuals are much improved, as expected, from the N64 version. The gore and off-the-wall humor are also present. Multiplayer was a fun "sniping" experience.

Kameo was the second Rare game I tried. The funny thing about Kameo is that it's been shown, in one way or another, at the previous three E3 expos. Once a Gamecube game, the game has many elements that would be called "Nintendo-ish". Cute characters, colorful visuals, and interesting gameplay. Although there was a little disagreement between staff, I personally thought the game looked great.

Thursday May 15th, Day 2, 3:19pm:
Visited the Atlus and Bethesda booths today. Atlus had plenty of announcments, including one very, very BIG announcement that I unfortunately cannot post right now. Let's just say that it involves a very famous but classic license that you may have enjoyed on the NES and SNES. As for their ready to announce games, Atlus showed off Disgaea: Hour of Darkness, a game that closely resembles Final Fantasy Tactics. The game features an anime style of art, and up to 12 characters on the player's team. Demi Kids was a GBA game that Atlus hopes to release during Q4. It holds a few similarities to Pokemon, but the gameplay should be varied. For the Gamecube, Atlus had a unique cel-shaded skate boarding game called Go! Go! Hypergrind. With the popularity of skating games, Go! Go! Hypergrind should enjoy some success.

Bethesda had a few games to show off but definitely the one on most gamers minds was the new Morrowind expansion, Blood Moon. I was fortunate to see the game in action including new enemies and the new werewolf mode. The werewolf can't cast spells or block attacks, but can take a lot of damage.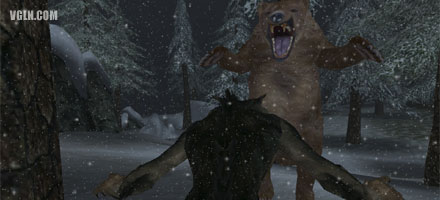 Pirates of the Caribbean, formerly Sea Dogs 2, showed off an amazing terrain engine. The game is a strategy/action game and requires the player to manage both action and economic elements of gameplay.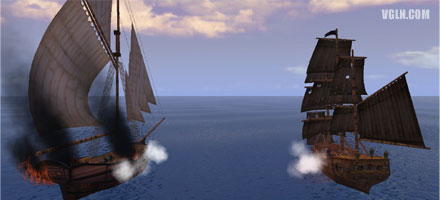 Call of Cthulhu is a first person adventure game, that utilizes survival horror elements to add to the experience. In the game you play a cop in the 1920s who has the unfortunate task of investigating a home that seems to have interesting inhabitants. It features unique elements such as an "insanity" meter that determines the view and actions of your character.

Thursday May 15th, Day 2, 10:40am:
True Crime: Streets of L.A is a game in the GTA3/Getaway style. I don't know about the average gamer, but it seems to me that the production and development of these type of games is getting out of control to the point that I expect a glut to hit the market very soon. The game looks okay, and plays pretty well, but I can't help but think, "I've seen this before."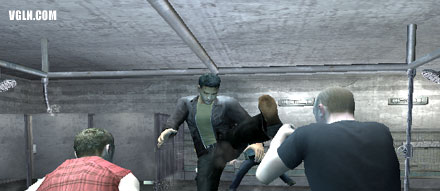 Thursday May 15th, Day 2, 10:35am:
Just saw Activision's upcoming game for the PC called Call of Duty. It's a fairly impressive looking game on the visual side and plays very much like Medal of Honor. One of the twist in this game though is the fact that you can play as three different allied sides; namely the Americans, British, and Russians. This game could be a contender.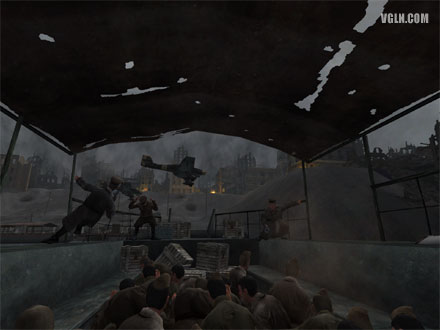 Wednesday May 14th, Day 1, 5:28pm:
Heading out back to the parking lot. Parking closes at 6pm and then they lock the gate. As much as I would love to stay on the L.A streets, I care too much for my existance and am departing a half hour early. See you guys tommorow.

Wednesday May 14th, Day 1, 4:00pm:
Getting kind of tired, but I must visit the Kemco booth to check out Rogue Ops. This is going to be Kemco's big hit for the second half of the year. From my first impressions of the game, you can expect a mix and match of gameplay elements from Metal Gear Solid 2, Splinter Cell, and Tomb Raider. A good game, but I must admit, the similarities to other titles was obvious.

Wednesday May 14th, Day 1, 1:00pm:
Went to the Codemaster's Booth expecting some announcement on Operation Flashpoint 2. Apparently, there is nothing, so until I see an actual gameplay shot, it remains vaporware. I didn't have a complete loss on the booth visit as I was able to try out the new American Idol game. It reminds me of a variation of Beatmania by Konami, a wildly popular arcade game. You can design your contestant to your hearts content, including hair color, shoe type, and even contact lens color. Overall an enjoyable experience.

Wednesday May 14th, Day 1, 8:00am:
We arrived at the convention center a little late and as a result some of us went to the breakfast and found the food had been virtually extinct. However, we were able to obtain a muffin or two, continental breakfast anyway... bleh. So far, so good, saw a big screen showing off a few Lucas games, might go checkout that booth this year. Anyway, I'm off to the keynote, hopefully someone finally announces a price drop!!!!

--- Jolex Del Pilar, from the E3 Expo