Get game updates delivered directly to your e-mail as well as prizes!

[an error occurred while processing this directive]

†

VGLN.com Animation >> Features >> article

[Manga] Cheeky Angel
by Kit

Tuesday, October 19 2004

Follow the adventures of a boy, turned girl, without all the nasty surgery.

Title - Cheeky Angel
Story and Art - Hiroyuki Nishimori
Release - June 2004
Published by - VIZ
Genre - Action
Length - 190 pages.
Expected MSRP - $9.99 U.S/$13.95 Canada

It's been a while, but VGLN Animation is back after a slight redesign and CMS change, just in time for the coming IGN semi-merger that you may have read about on the site already.

First on our table this month is a manga courtesy of VIZ Inc., and artist/writer Hiroyuki Nishimori. Cheeky Angel is the story of a "girl" named Megumi who faces many of the same problems pretty girls her age face; boys hitting on her, boys picking on her, and other boy problems. The proverbial twist in this story is that Megumi herself is actually a male. Through a mishap with a hard hearing genie, Megumi is magicially turned into one of the most beautiful women on Earth. Sure Ranma 1/2 comes to mind, but sex-switching wasn't original to Ranma 1/2 either.

After six year of being a woman, Megumi is now a high school knockout who has kept much of her boyish habits. She still talks tough, and stomps boys who mess with her. To add to these troubles, Genzo, a town bully, eventually becomes smitten by Megumi's soft/hard mixture.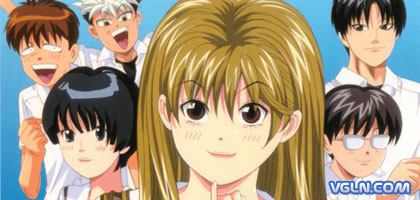 Cheeky Angel is the basis for a 50 episode anime currently running in Japan.

Miki, Megumi's best friend, is with the boy turned girl throughout the story. Naturally, since Miki knows that Megumi is actually a girl, some "compromising" situations develop during the latter part of the story that may have even the most gender sure person asking some questions.

The story telling is typical of many mangas of this genre, very light hearted, humorous, and zany at times. In particular, Megumi's initial meetings with a tough named Soga end with Soga being punched and kicked into submission by the dainty looking Megumi. However this doesn't deter Soga in the least as he becomes more intrigued that a girl like Megumi could best him in hand to hand combat twice.

By the end of the manga, Megumi begins to deal with important issues and questions like "Will she ever turn back into a boy?" It's an interesting character study that you would probably only see in a manga, or maybe a Sundance Film Festival piece.

The art itself is very clean, but that's expected from artist Hiroyuki Nishimori who won Shogakukan's 46th annual cartoon prize in 2001. Cheeky Angel has even spawned an animated series which ran for 50 episodes, and a Playstation video game.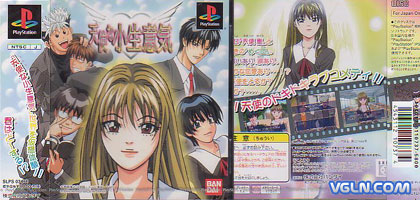 A videogame based on Cheeky Angel was released on the Playstation in Japan a couple of years ago. Unfortunately it never came to U.S shores.

Cheeky Angel will definitely appeal to fans of Ranma 1/2 although the former deals less with fantasy as it does with the character development of a gender bending tough girl/guy. Both however use slapstick humor in droves, and it makes for some light hearted story telling that manga fans will be able to enjoy during a quiet moment on the bus, or before class.

--- Kit